Riva quality
Long-term experience that brings comfort, aesthetics
and reliability to your home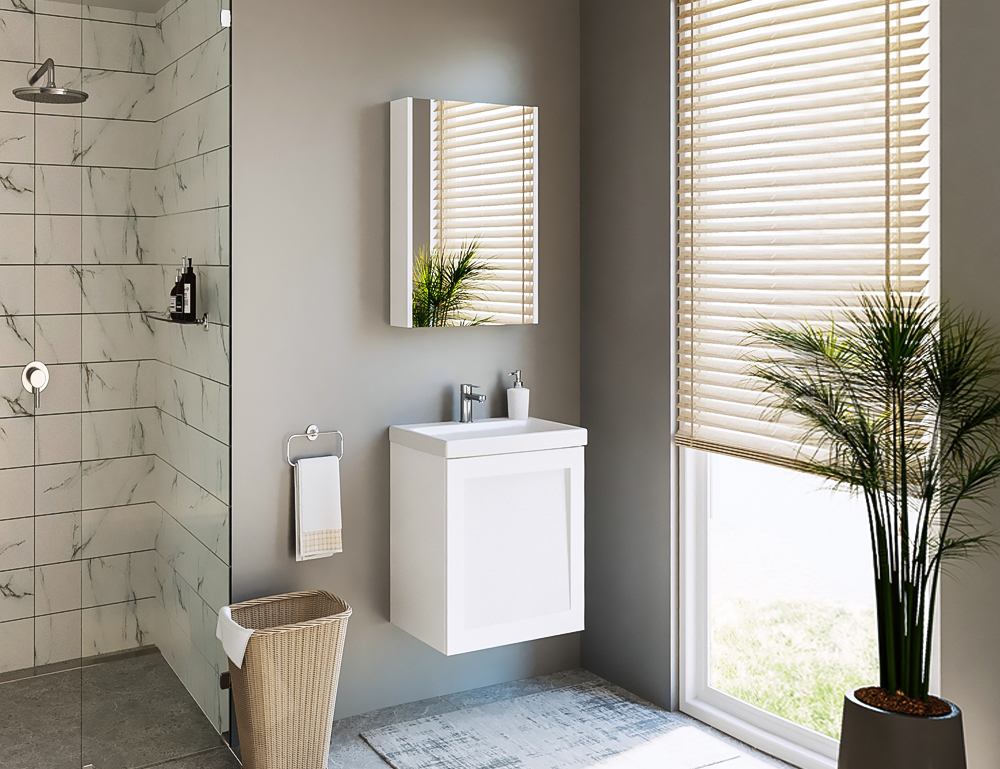 Furniture designed to deal with bathroom climate conditions
Bathroom furniture is made from MDF (medium-density fiberboard) and MFC (melamine faced chipboard) boards which have a minimal reaction to moisture if they are properly prepared for it.
To protect strong and stable MFC boards from moisture penetration, we cover all edges (through which moisture can penetrate) with waterproof PVC / ABC strips. Meanwhile, smooth MDF boards are coated with polyurethane paint, which forms a strong protective top layer that does not allow moisture to penetrate inside the board and deform it. In addition, we also paint white MFC panels with this paint.
Although the furniture is designed for the bathroom, sustained moisture and constant exposure to water can damage it. Therefore, we recommend ensuring good ventilation in the bathroom and cleaning water splashes from the surface immediately.
Soft - closing hinges and soft/self-closing drawer slides
The furniture is equipped with soft-closing hinges and soft/self-closing drawer slides. The Soft-closing system gently slows the movement of the doors. Meanwhile soft/self-closing function pulls the drawer to the fully closed position very smoothly and without difficulty. These furniture fittings are a pleasure to use and furthermore – they also have a longer service life compared to ordinary fittings.
During assembly, the hinges are not drilled but pressed. Thanks to this technology, hinges are attached to furniture precisely and sustainably. This is especially important since bathroom furniture is intensively used and must therefore be durable.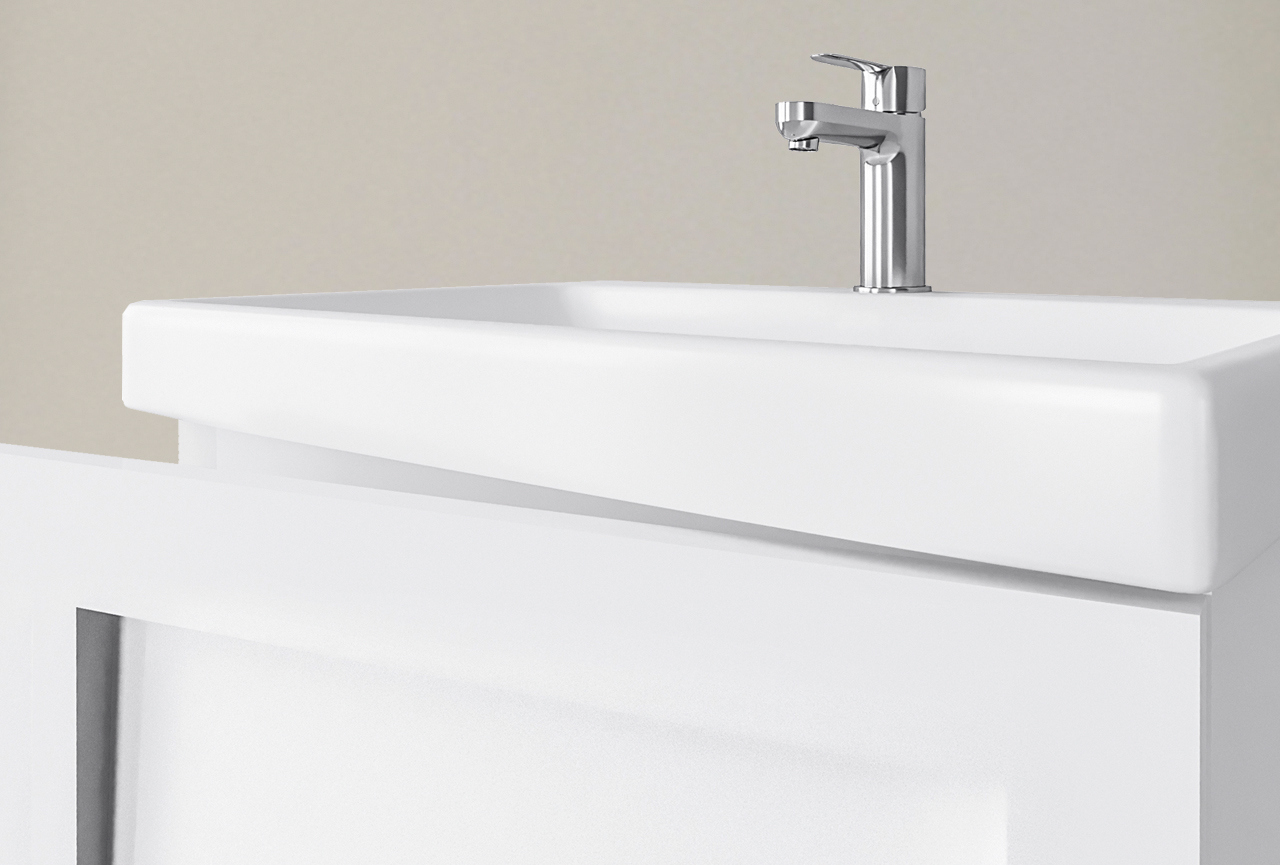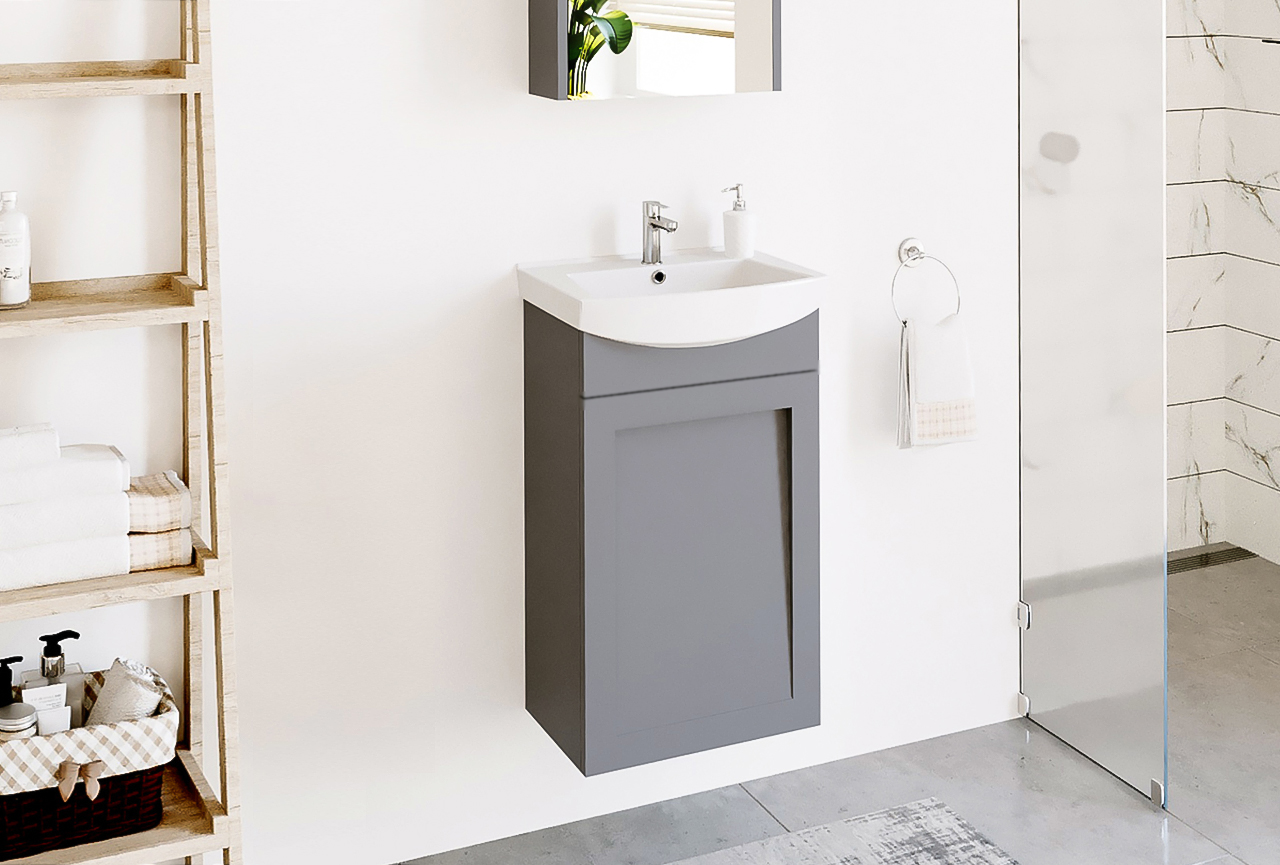 Rich, long - lasting color and gloss of painted surfaces
The furniture is painted with polyurethane paint which makes the coated surfaces perfectly smooth, easy to clean, and resistant to moisture, meanwhile, the color and gloss remain unchanged for a long time.
Thanks to the advanced two-component painting equipment we use, the paint is prepared with great precision, ensuring that the color and gloss meet customer requirements and that the color does not differ between the painted parts.
Furthermore, by providing MDF painting services to other furniture producers, we have gained experience ensuring the high quality of our painting processes. We always aim for a painted surface to be smooth, rich in color, and featuring a desired gloss.
LED lighting and a socket
We use LED (the light-emitting diode) to illuminate mirrored doors. LEDs are incredibly energy-efficient and durable artificial light source compared to traditional filament or halogen bulbs. Furthermore, LEDs are free of mercury and do not contain unwanted ultraviolet (UV) or infrared (IR) fluxes.
In mirrored cabinets with lighting, we install electrical boxes with a convenient LED light switch and practical socket. We only use safe–earthed sockets.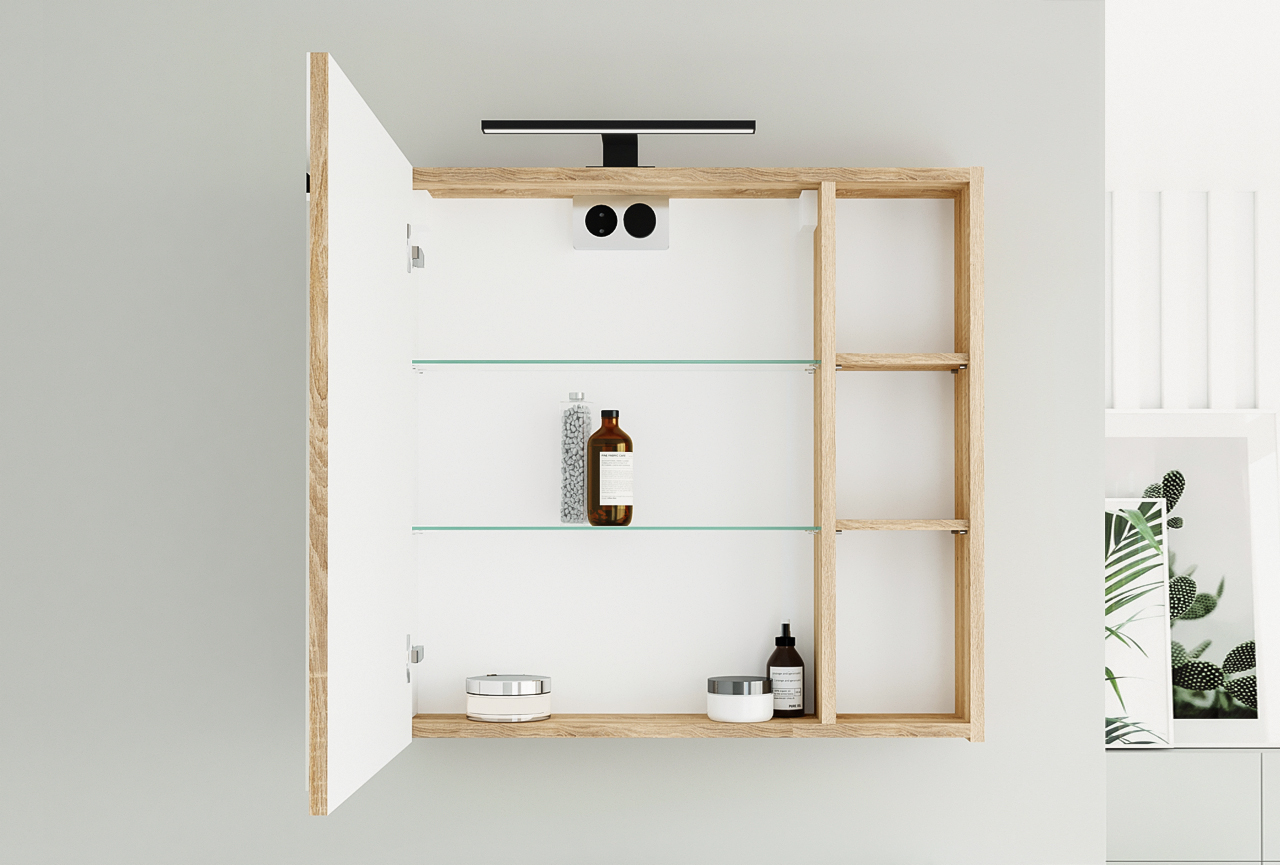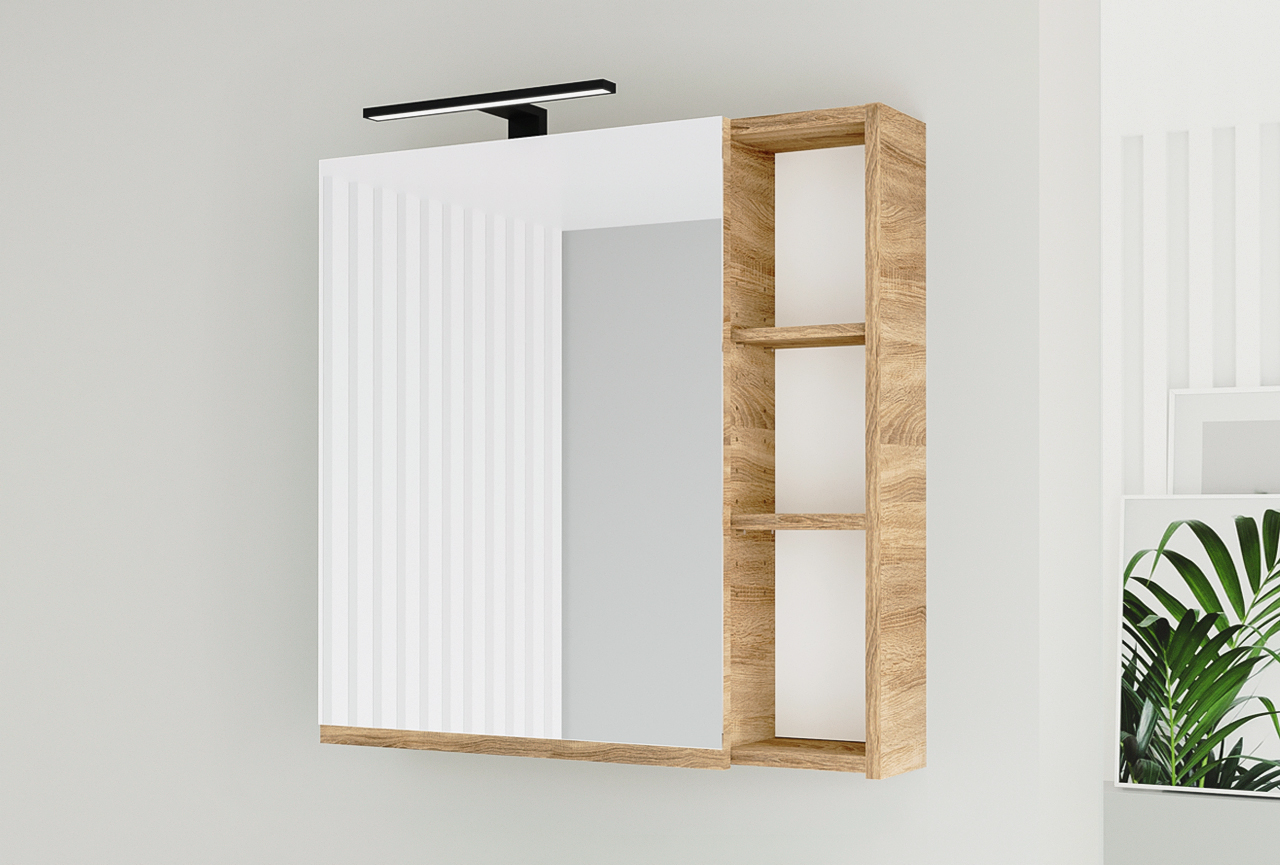 Moisture resistant mirror
In furniture production we use bright, moisture-resistant, precisely processed mirrors that exhibits slow corrosion in comparison with the same, but lower quality mirrors.
A laundry basket is a great helper in keeping order in the bathroom. Especially when it is installed in an aesthetic cabinet. Thus, we offer a wide range of household cabinets with an integrated laundry basket!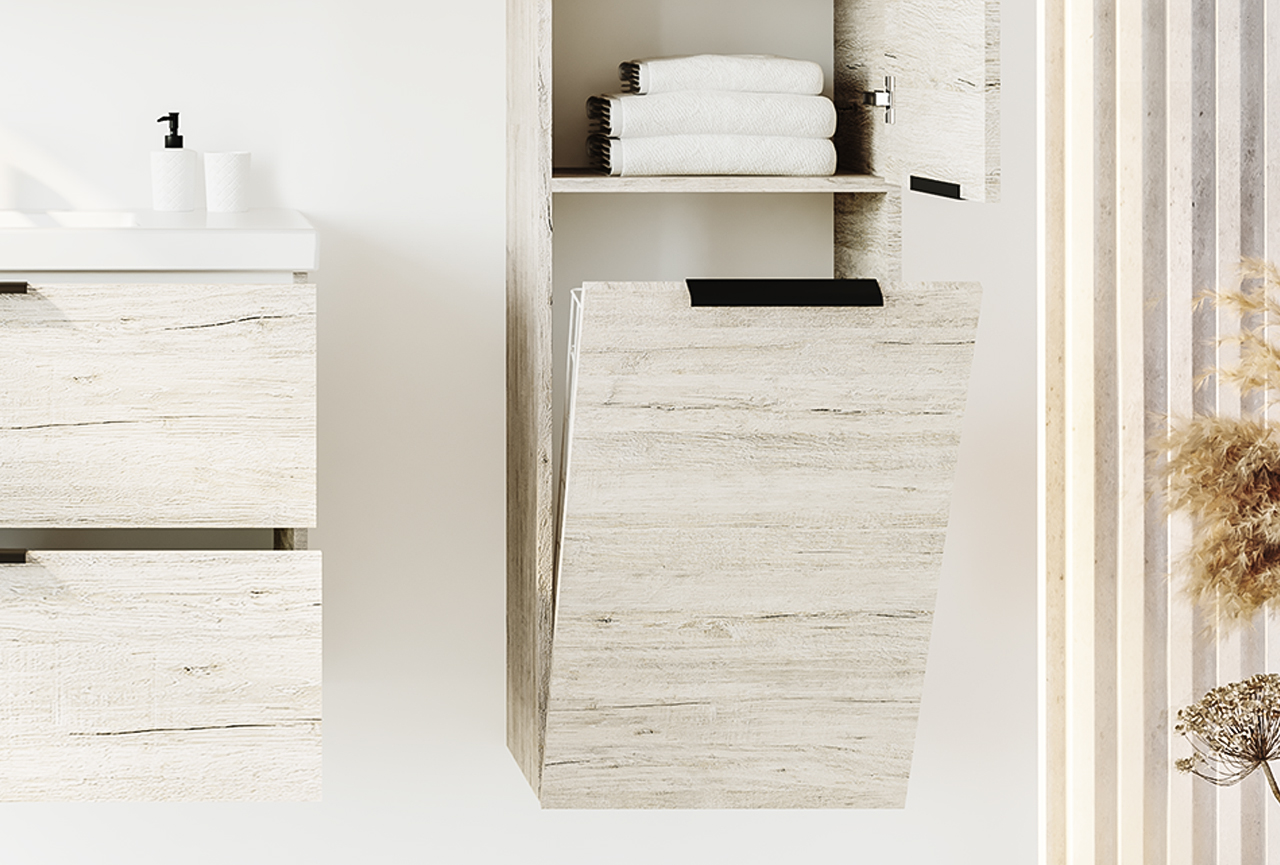 Furniture we offer is already pre - assembled
For your convenience, the furniture we offer is already pre-assembled. In addition, we add accessories (screws and hangers) for fixing the furniture to the regular brick wall. Clear furniture installation and maintenance instructions are included in furniture packages and provided in our website (in the furniture description).
Furniture is assembled with pneumatic press
Seeking to provide perfectly assembled furniture, we use a pneumatic press instead of clamps. This method of assembly gives the furniture firmness and stability. In addition, the pneumatic press ensures the quality of the furniture – in case of inaccurate cutting or drilling, the furniture is broken during pressing.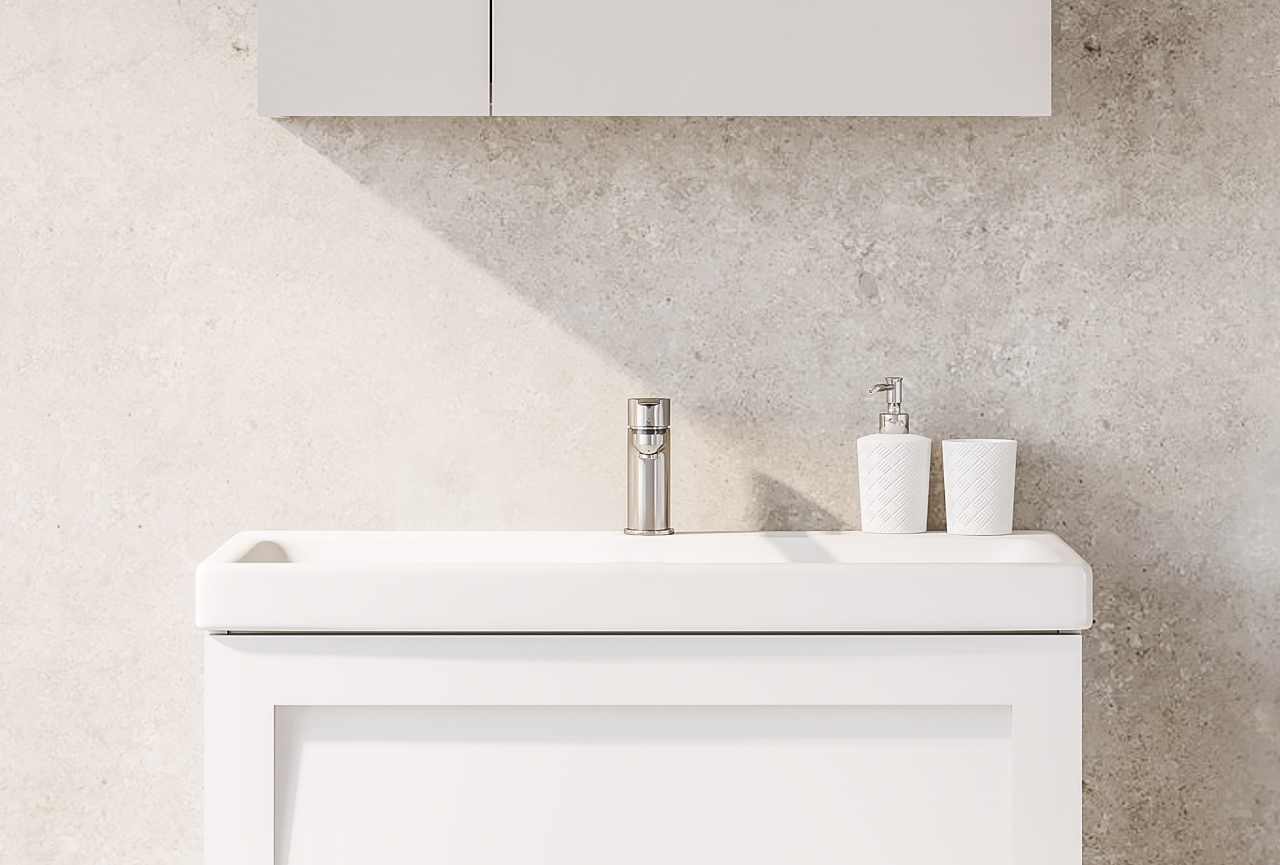 The sleek shape of the washbasins and the time-tested excellent glaze properties ensure easy maintenance. Enjoy the washbasins that add more comfort to your everyday household!
Bathroom furniture and washbasins are covered by a 2 year warranty
We provide a 24-month warranty on our products from the date of purchase. The warranty covers manufacturing defects and applies if quality defects arise despite compliance with furniture and washbasin installation and maintenance instructions. Our installation and maintenance instructions are included in furniture packages and provided in our website (in furniture descriptions).
Enjoy long and pleasant moments in your bathroom with our furniture and ceramic washbasins!